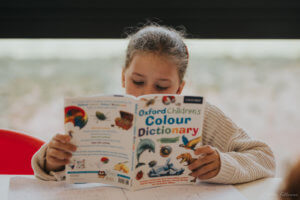 In small groups (maximum 12 children), classes will enjoy learning English through total immersion. They will learn through dynamic games, activities, crafts and songs in English, based on the theme of the week.
We have chosen playful themes that will enable our children to learn the basic vocabulary of the English language.
Older children (8 to 12 years old) will be in levelled classes in order to adapt the learning to their language needs. They will follow the Cambridge TEFL program "Superminds" in the morning and join in with the themed fun through art and games in the afternoon.
| | | |
| --- | --- | --- |
| Dates | Days | Price |
| July 6-10 | 5 | Full |
| July 13-17 | 4 | Full |
| July 20-24 | 5 | Full |
| July 27-31 | 5 | Full |
July 6-10: Living in the Savanna – the savannah is a dense meadow that is home to many different animals, plants unknown in Europe and where the customs are different from ours. We will travel in our imaginations to this distant world and becoming familiar with the vocabulary of the ancients, the rainforest and its inhabitants.
July 13-17: Aquatic World – Underwater world, is an exceptional learning environment. The friendly dolphins, the terrible sharks, the enigmatic mermaids, a whole secret world to discover with joy!
July 20-24: Off to the circus! We will travel to this world of magic and mystery and create our own circus with wonderful magic tricks, costumes and activities with imaginary animals. We work on the themes of colours, numbers and circus animals.
July 27-31: Super Dinosaurs – Who wouldn't want to meet a dinosaur? These creatures that disappeared millions of years ago and will join us in our imagination! For example, the Bambiraptor was a tiny dinosaur named after Walt Disney's famous deer! This theme allows us to have lots of fun whilst we work on numbers, letters and colours!
Have a look at a typical Kaleidoscope English club day this summer.
*Images used in the video: babycenter.com, eatright.org, purewow.com *Music used in video: bensound.com